Featured categories of titanium wedding rings
The glint that never fades.
Old school married to high tech.
Our more delicate designs.
Rings to celebrate a stronger bond.
Celebrate the one that didn't get away.
Hike thorough life together.
The rainbow made solid for your colorful life.
Sail away with your love.
From our blog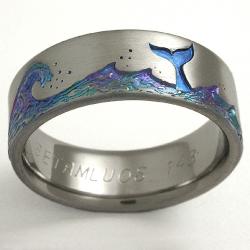 We made the first ring in our wave series—Eastbourne 1-a—for our good friend Mitch Adair. He wanted a ring evocative of the famous "Great Wave" woodblock print by Katsushika Hokusai.
A customer liked that ring but wanted to add a whale tail, so we created Echo 1.